The Asia-Pacific War in the Davao Settler Zone, December 1941
Maria Cynthia B. Barriga

Ateneo de Manila University
Abstract
As a Filipino-Japanese settler zone before and during the Asia-Pacific War, Davao offers a case of how conflicts affect frontiers where people of warring countries had coexisted. This paper presents a local history of the war in Davao, a province in southern Philippines. Of the three and a half years of the Asia-Pacific War, it zooms in on the Japanese bombing and military invasion from 8–31 December 1941. Archival and oral sources in Filipino, Japanese, and English languages were examined to identify common exigencies and to search for patterns of how the residents responded to those. The paper finds that the proximity of Filipino and Japanese populations caused panic, chaos, and a domino of violence. At the outbreak of the war on 8 December, Filipino suspicions against the Japanese residents burst into open animosity, which led to indiscriminate murders and the incarceration of the Japanese populace. On 20 December, some of the Japanese residents released by the invading Japanese military used their positions as mediators to seek vengeance against Filipinos who had abused them. In this monthlong chaos, Filipino and Japanese residents survived through prewar linkages that transcended their nationality. From 8–20 December, the Japanese residents survived Filipino hostility and internment with the help from non-Japanese family and friends outside the camps. From 20–31 December, many Filipinos were cushioned from the Japanese invasion by Japanese family, friends, employers, and employees. Besides nationality, kinship and prewar networks based on locality and livelihood influenced Davao residents' experiences of the war.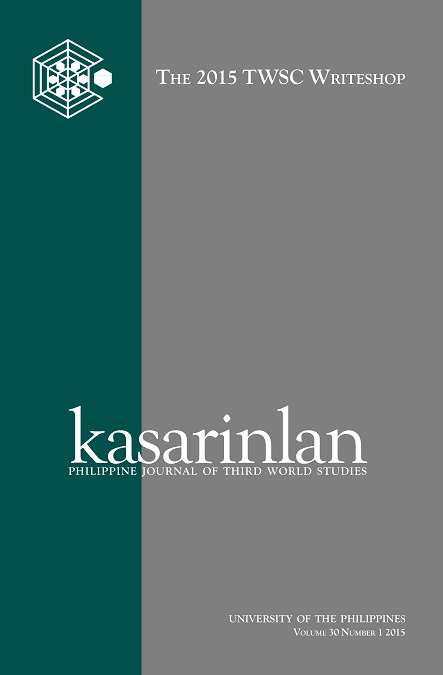 Keywords
Davao; Asia-Pacific War; conflict; frontier
By submitting a manuscript, the authors agree that the exclusive rights to reproduce and distribute the article have been given to the Third World Studies Center.